Evergreen content: What is it and Why it works?
Evergreen content is content that remains of interest over time and makes for a steady source of traffic to your website.
Unlike seasonal or topical content, which drives lots of traffic over a short period of time, evergreen content might not drive so many visitors immediately, but it remains relevant indefinitely.
The same topic may be approached with both types of content:
Topical content: "The best-selling Christmas gifts of 2018".
Evergreen content: "10great gifts ideas for a teenager".
In the first case, we can find a list of gifts which will only be relevant for a limited period of time. It'll drive traffic within a few weeks before Christmas 2018, but after that date, its popularity will collapse.
In the second case, however, it'll drive traffic regularly over time. It might get well ranked in web searches such as "gifts for teenagers", or "great gifts" or "gift ideas".
What is evergreen content for?
Including evergreen content in your website will help you improve your search engine resuts for months or even years. That is why it's the basis of a good long-term SEO strategy, as you'll be publishing content which will remain relevant even with the passing of time.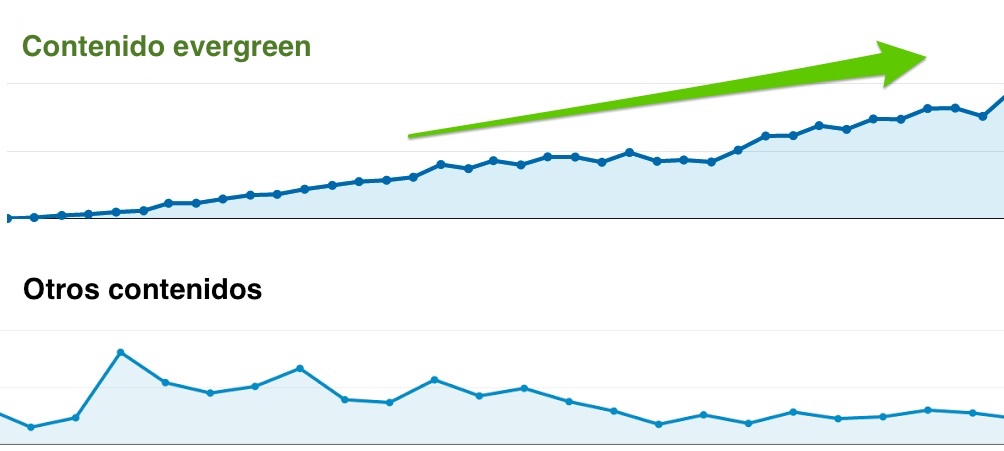 Examples of evergreen content
The usual format of evergreen content consists of lists, tips, tutorial videos, definitions, posts for future reference, case studies and other recordings.
Some timeless topics which always work to develop this type of content include: love and romance, food, home finances and savings, slimming down, advice for parents, work-related concerns, and pet care.
What do they have in common? Well, they are all part of our daily lives, though they should be presented from a marketing approach, somehow finding a relationship with your own business activity.
More: 14 examples of evergreen content formats that work wonders
What evergreen content is not?
It may sometimes be hard to clearly identify where is the line dividing both types of content. Articles including sports and statistics which might change or need updates are more likely to become outdated.
Besides, news of any sort (political, technological or of entertainment), or fashion trends or pop culture, also lose their relevance short after they've been published.
This doesn't mean that topical content is useless, but it actually serves other purposes –and a comprehensive marketing strategy should make a balanced use of both.
More: How to Create Evergreen Content That Lasts (17 Tips and Tricks)
How does evergreen content work?
We shouldn't forget that companies adopt a content marketing strategy to increase their search visibility which is relevant for their target audience, as part of a SEO strategy.
Part of the algorithm indexing websites for the search engine results also checks on the validity of a given content. For instance, if it's something like "20 surprising facts of this 2015", the algorithm will consider the date and display this result just in case the user makes a search about that specific year.
Instead, evergreen is basically the creation of content with no expiration date. You can achieve this through keywords and subject matters that are used on a current basis all over the year.
Keep learning
You can find very many online resources related to evergreen content. Below there's a list of some of the best we've found:
Who is in charge of evergreen content?
It might seem quite complicated to bring about good ideas for this type of content. A content marketing specialist can help you identify the topics with the greatest potential.
It may also be useful to contact an SEO Consultant to find and make the most of the evergreen content strategy that might best adapt to your business. Once the topics and keywords have been decided, a creative writer will be on top of their development with an appealing, persuasive approach.
Do you need evergreen content for your site?
Here at Workana you can connect with many freelance professionals, widely experienced in quality content writing –either for small or for big projects.
Take a look at the best writers and SEO experts from our platform. We are confident that you'll find the right freelancer for your project.
What is Workana?
We invite you to know Workana, the leading freelance marketplace. We've been working since 2012 to keep connecting companies and entrepreneurs with remote workers of the most diverse specialty areas.